With the year (and the decade!) approaching the finish line, there is no better time to reflect on the milestones achieved over the past year. Below are a few key G2 Ops, Inc. 2019 highlights – we invite you to reminisce with us!
COMPANY CULTURE
G2 Ops brought on 31 people to the company this year, 23 of which are based out of our San Diego location. Our team grew in other ways as well – three team members got married this year and two each welcomed a future engineer into the world! Congrats to the newlyweds and proud parents!
Calling all animal lovers! The Virginia Beach team added 6 puppies, a kitten, 6 goats, some chickens and a few turkeys – most of which of course belong to IT guru and wildlife refuge operator A.J. Jones. It's all part of the family! Jealous yet?
The Team kept busy juggling the tasking necessary to execute the eight prime contracts and twenty subcontracts G2 Ops is involved with.
When G2 Ops was asked to present at the North Atlantic Coast Guard Forum, the decision was made to forgo a traditional presentation routine and perform a skit instead! To describe G2 Ops' capabilities and services in an easy-to-grasp way, a group of our team members in Virginia Beach got into character and delivered a script laced with humor to Coast Guard customers from all the world over. It was a fun chance to shake things up!
Community involvement is important to G2 Ops. This year, our San Diego engineers spent time at Patrick Henry High School (PHHS) to support the school's Design and Engineering Academy. Members of our team served as judges in PHHS annual engineering design competitions, developed and delivered lessons to students on a variety of STEM topics, and discussed the individual paths and educational experiences that lead each of them into the engineering field.
Back on the East Coast, the team maintained our relationship with the Advanced Technology Center (ATC) – a specialty school born from a state/city partnership between the Commonwealth of Virginia and the City of Virginia Beach that specializes in providing tailored technical education to high school students. We brought on several ATC students for both short-term and long-term internship opportunities. We benefited from their unique skill set and we hope that their "real world" experience from their time spent with us will help shape their studies and future career paths.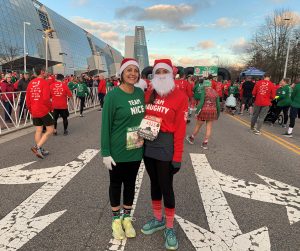 Our San Diego Team took team building to the next level by venturing to Baja's wine country in Mexico for a day full breathtaking views and unique flavors the area has to offer.
Running is a common denominator among many of our team members. Much of the crew stayed fit by running together in several races over the year, including the ADP Corporate 5k Race, The Shamrock Marathon, the Surf-n-Santa 5-miler, and a fun 5k organized by our very own San Diego crew!
G2 Ops never misses an opportunity to celebrate! 2019 brought several bake-offs, champagne toasts, costume contests, and birthday celebrations that lead to a satisfied sweet tooth, lots of laughs, and memories made for all.
BUSINESS
G2 Ops was awarded a Phase III Basic Ordering Agreement, referred to as a "BOA", which allows government agencies to issue Delivery Orders to G2 Ops for tools and/or services related to modeling and cybersecurity. Since we have previously been successful through Phase I and Phase II competitions, no additional Phase III competition is required per law when the BOA is utilized.
2019 marks the beginning of our journey in working with the Air Force! AFWERX awarded G2 Ops both a SBIR Phase I and Phase II contract over the course of the year. We are thrilled to apply our capabilities across another branch of the DoD.
We brought home A+ report cards! In government contracting lingo, that means we received "Exceptional" Contract Performance Assessment Ratings (CPARs) across the quality, schedule, and management categories on several of our contracts. High CPARs scores provide us with coveted credibility that can lead to more contract wins!
G2 Ops, Inc. President, Tracy Gregorio, served as the keynote speaker at the second annual Valley Tech Conference in Harrisonburg, VA. Her presentation, titled "A Drive through Virginia", provided a thorough analysis of the status of technology in the Commonwealth of Virginia as the state continues to strive toward becoming a technological powerhouse.
Inc. 5000 ranked G2 Ops #1155 in the list of 2019 "Fastest Growing Private Companies in America". To be considered, a company must be privately owned and meet specific consecutive growth criteria over the past three years. In 2018 we were ranked #2679 (we'll do the math for you, that's a whopping 1,524 place jump!).
To accommodate our growing team, we expanded our San Diego office. Renovations are complete and all team members have a seat! Virginia Beach office expansion may be on the horizon as well…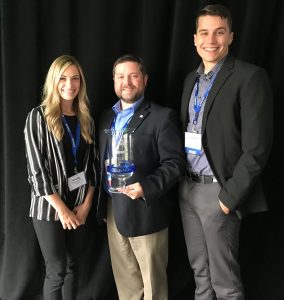 GRANTS AND AWARDS
Thank you for joining us along the ride! We are looking forward to all that is to come in 2020.